The Captain of the Guard
is the captain of the allegiance to
Corona
in
Tangled: The Series
. And
Cassandra
's adoptive father.
Background
Physical appearance
TBA
History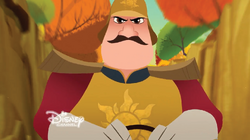 The captain plays a minor role in the sequel, taking place six months after the events of Tangled, and before Rapunzel and Eugene's wedding in Tangled: Before Ever After. He retains his position as captain of the guard, and is first seen chasing down Rapunzel and Flynn (now going by his true name, Eugene) as they pursue the kingdom's border wall to allow Rapunzel a chance to look out into the land surrounding Corona. The captain fails to stop them, once again, but simply accepts defeat and calls Rapunzel back once preparations for her coronation are set to begin. Later on, the captain is seen ensuring King Frederic that Corona's security has been amped, per request, although this does not stop the pirate Lady Caine and her band of thieves from crashing Rapunzel's coronation. The thieves barricade the hall's door, locking the guards out, though they manage to break through in time to arrest the villains, who were already defeated by Rapunzel, Eugene and Cassandra.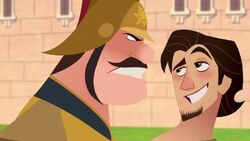 The captain plays a supporting role in the animated series. Due to being considerably more pessimistic, jaded and down-to-earth than the rest of the cast, the captain is often looked down upon as an antagonistic figure of sorts—specifically with Eugene, as the rivalry between himself and the captain remains, despite Eugene being a much-beloved resident of the castle's household.
In Fitzherbert P.I. Eugene pursues a position in the royal guard, prompting the captain to sabotage Eugene's chances of earning the job, and Big Brothers of Corona, where the captain was against the idea of hiring Eugene's former partner, Lance Strongbow, as a much-needed guard instructor. Despite his firm stance on situations, the captain has shown that his mind can be changed, and he will begrudgingly own up to his wrong doings, if any.
In Great Expotations it is revealed that the captain has reservations about granting Cassandra a portion on the guard, despite believing her to be more than qualified for the job. She manages to prove her worth after assisting the young alchemist, Varian, in saving the castle, though she would continue to make efforts to highlight her capabilities.
In Under Raps, Cassandra lured a separatist into Corona to uncover the reasoning behind his fascination with an ancient journal that belonged to one of Corona's previous kings. As revealed to Rapunzel, part of her reason for doing so was to prove herself to her father.
Trivia
TBA
Gallery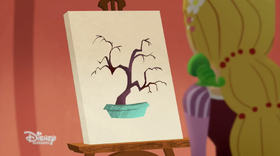 Click here to view the gallery for this article.
References
v

•

e

•

d

Tangled: The Series Characters