Rapunzel's magic hair plays an extremely important and crucial part in the plot of Disney's Tangled and the series, Tangled: The Series. Rapunzel's hair is what makes her special, glowing bright gold when she sings a special song known as Healing Incantation. It is known to have the ability to heal the sick and wounded as well as return those who have died to life.
Background
In the TV series, Rapunzel's magic hair grows back to the length and color it was in the film. It grows back when Rapunzel and her handmaid, Cassandra, discover some mystical rocks with magical properties during a secret adventure. In the series, her new hair is revealed to be indestructible and cannot be cut. It's later revealed that Rapunzel's hair no longer possesses its original powers to heal, but is revealed to have acquired a new power, protecting Rapunzel by creating a magical shield. It also appears to respond to her subconscious when she's dreaming, because it was levitating all over her bedroom before she woke up. Rapunzel's hair glows when she approaches the rocks, though it is not yet revealed if there is any magic with it.
In The Quest for Varian, Rapunzel tried to stop the troops chasing her and pulled down her hair from the tower to touch the rocks. The hair and the rocks triggered a shock wave to stun the troops successfully, but it caused the rapid growth of the rocks towards Rapunzel and consequently destroyed the tower.
Trivia
On Rapunzel dolls, her hair is long and blonde again, not short and brown like it is at the end of the movie. Some dolls have her hair braided with flowers, and other just long and blonde. There is only one doll that has been seen with short brown hair. In pictures, Rapunzel's hair is again long and blonde.
In the original story, Rapunzel did have healing powers but they were held in her tears and were used to restore the prince's sight. Disney expanded this myth to give Rapunzel her healing hair.
In the original trailer of Tangled, Rapunzel's hair would have been able to move on its own and act like another appendage as it attacked Eugene when he came up to the tower.
Gallery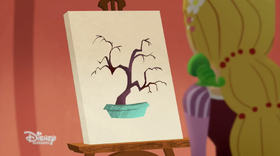 Click here to view the gallery for this article.