Rapunzel's tower was the childhood home of Rapunzel, the place where Mother Gothel had raised her and where she and Eugene had first met.
History
During the events of The Quest for Varian, it was destroyed by the black rocks.
In The Idol, Rapunzel recalls the wrecked tower in a flashback while writing to her dad.
Appearance
The tower is quite tall and has green vines surrounding it.
Gallery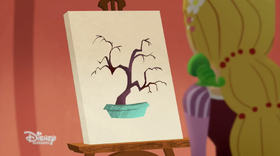 Click here to view the gallery for this article.
References